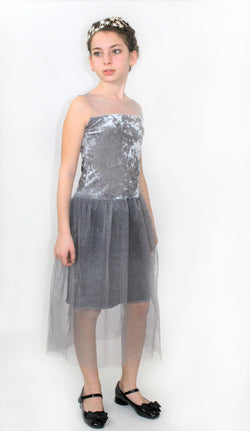 The Silver Era dress is sparkly and elegant.
A combination of soft stretch velvet with sheer mesh sprinkled with stardust
And a soft lining, to match. Fresh design and comfortable fit.
With this dress you will be the star of the event. 
Highlights:
-  Soft fabrics for best comfort and easy movement
-  Sophisticated playful design                                                           
-  Light and stylish
-  Made with Love in NYC
Care Information
-  90% polyester, 10% spandex
-  Dry clean/ Machine wash cold / Hand wash separately.