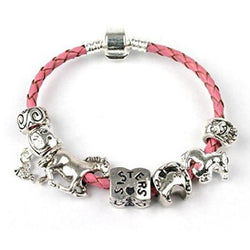 Children's Sisters 'Horse Lovers' Charm Pink Leather Bracelet by Liberty Charms
Fulfilled by our friends at Liberty Charms
This sleek personalized Sisters 'Horse Lovers' set includes a pink braided leather horse bracelet or animal bracelet and the selection of beads and charms shown. This gift for horse lovers is ready to wear making it the ideal present for any young Sister who loves animals.
Features:
Long Earred Dog
Pony
Horse & Shoe
'Sisters' Cube
Wild Horse
Cat with Fish Drop Charm
Scroll Clip
Size Guide: Most accurate if you can measure wrist directly. When measuring the wrist please add 1" to the wrist measurement to allow for the beads.
General Size Guide:
Children Age 2-4 = 6 inches.
Children Age 5-8 = 6 2/8 inches.
Children Age 9-13 / Extra Small Adult = 6 5/8 inches.
Small Adult = 7 1/8 inches.
This horse jewelry, equestrian jewelry or animal jewelry will make a unique horse gift special.