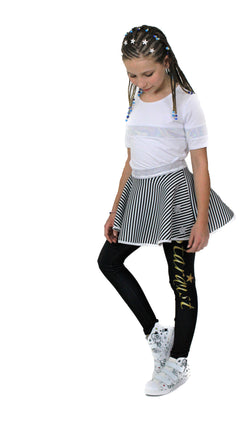 The BW bell Skirt is made with Spand-tek compression wick, Scuba fabric. This cute little skirt is printed with our Black and white stripes pattern and added glittery stars. The unicorn velvet waist and hem enhance the spacey feel of this playful bell Skirt. 
Highlights:
-  Soft fabrics for best comfort and easy movement
-  Sophisticated playful design
-  Light and stylish
-  Made with Love in NYC
Care Information
-  Spand-tek compression wick, Scuba: 90% polyester, 10% spandex
-  Dry clean/ Machine wash cold / Hand wash separately.